Magnetic Finger Ring Stand Back Case Hard Cover For Samsung Galaxy S20/S20 Plus/S20 Ultra Slim Fit and Sophisticated in Look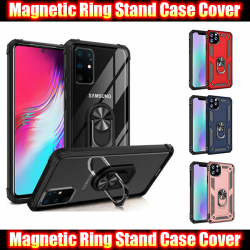 Best Quality Magnetic Finger Ring Stand Back Case Hard Cover for Samsung Galaxy S20/S20 Plus/S20 Ultra Fit Look Durable in Strength and Sophisticated
"Pictures in this listing are for illustration purpose. Original colour and design may vary."
Supported Models:
Samsung Galaxy S20- SM-G980, SM-G980F, SM-G980F/DS
Samsung Galaxy S20 Plus- SM-G985, SM-G985F, SM-G985F/DS
Samsung Galaxy S20 Ultra- SM-G988B/DS
Colour:
Please Select the Color from the Options
Colour Available- Black, Blue, Red & Rose Gold
Features:
Ø 100% Brand new and Best quality protective case
Ø Easy to insert and remove phone
Ø Super hand feeling
Ø Smooth Surface
Ø Comfortable Grip, Compact, Elegant & Stylish
Ø Modern Design - Ultra Slim Profile
Ø The ring can be used as a stand, so you could read comfortably, make phone calls or watch videos.
Ø All buttons control and ports are easily and conveniently accessible.
Ø Design of Integrated Silicone Finger Ring
Ø Accurate Hole Location
Ø Kickstand Facility
Ø Durable in Strength and Sophisticated in Look
Ø Snug Fitting Ensures That Your Phone Doesn't Look Bulky
Ø Protect Your Phone From Scratches, Bumps, Falls, Dust & damage
Ø Comfort Viewing
Ø Easy access to all parts, Buttons, Sensors & Camera
Ø This will not only look good on your Phone but will also protect
Note
Please remember to check your Correct Compatible Model Number from Supported Models & if you have any questions/query Please send us a message.
Our Address:
Mobile Links
396 Barking Road
East London, E13 8HJ
United Kingdom
Phone-02036898083