Unlock Code for EE 4GEE Router HH70VB 4GEE WiFi / Mini EE70 & EE120-2AE8GB3/ Y853 4GEE Y854 Y854VB Y853VB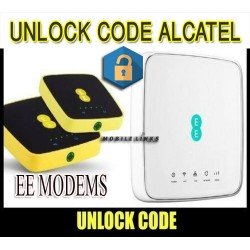 WE CAN GENERATE UNLOCK CODE FOR these Models- EE 4GEE Router HH70VB 4GEE WiFi / Mini EE70 & EE120-2AE8GB3
FACTORY AND PERMANENT NETWORK UNLOCK CODE GENERATED - 100% ACCURATE & FAST
WE CAN UNLOCK ANY WORLDWIDE NETWORK ANY SUPPORTED MODELS (SEE BELOW)
EE 4GEE Router HH70VB 4GEE WiFi
How to find the IMEI number?
The 15 digits number is printed on your mobile WiFi
We will not be responsible for incorrect unlock code if the accurate IMEI is not provided as mentioned in your device. Every unlock code is unique for each IMEI number. Please double check your IMEI number before submitting your order. No refunds will be given for incorrect IMEI nunber.
> WORKING HOURS: 10am till 8pm (we can generate the code instantly during these opening hours). Request submitted outside these hours will be processed the next working day. Sometimes the unlocking server is under maintenance and delivering of unlocking codes instantly would be beyond and over the timescale mentioned.
> What Information Is Required during placing an order?
How long does it take to get the Unlock code?
As soon as we get the order, your code is generated instantly and send to you, but if its night time in UK please allow up to 6 hours to generate the code and send to you. Time is usually 5 minutes to 6 hours to complete the order. Orders placed before 6pm UK time code is generated and send to you in few minutes.

How long does it take to receive the code?

> Code will be generated instantly, and will be sent to you during office hours, please allow up to 6 hrs to process the order.

> Removing the network restriction on your mobile phone with unlock codes is the safest form of unlocking available

>> Return Policy:

We will refund your order completely if the unlocking code provided is incorrect or not working. To claim refund you should be able to send us a picture of the back of the IMEI number and the picture showing how many attempts remaining.
If you are not able to provide video footage or the error we will not be able to refund your order. Please provide the right IMEI and the Model Number so that we provide you with the correct unlocking code.

Visit Us at "Mobile Links"
396 Barking Road, E13 8HJ
Phone - 02036898083