Apple iPad 9.7-inch A1822 5th Generation LCD Replacement Repair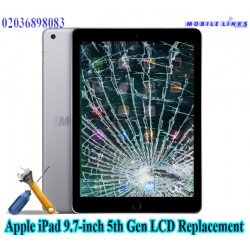 NO FIX NO FEE !


Repairing Time - Our expert technicians can replace your iPad 9.7-inch A1822 5th Generation LCD/Display in a short period of time.

Visit our store at 396 Barking Road, East London and get your iPad 9.7-inch 5th Generation broken LCD Screen Replacement Repair done at an affordable price (Subject to availability of the spare part)

Let us know a detailed description of your iPad 9.7-inch A1822 broken display as much as possible like did it fall from the hand or got a bang by some other solid object or anything else.
These all information helps our hardware technician for a better understanding which ultimately leads to a successful and reliable repair work.

Please note that the above repairing charge is for the Digitizer Replacement Repair only. If there is any other problem rather than the display then the repair charge will be different and specific to the repair category only.
The Customer has to bring the device to our store for repairs.
* Please Note that £80 deposit is required to start with this repair work and the left amount will be charged after the repair work is done successfully.

Fix from us and Get a Peace of Mind Warranty for 30 Days !
NO FIX NO FEE !
If you need any advice or suggestions please call us at- 02036898083
Apple iPad 9.7-inch A1822 5th Generation LCD Replacement Repair

Brand: Apple
Product Code:

Apple iPad 9.7-inch LCD Repair

Availability:

In Stock
Tags: iPad 9.7-inch A1822 Repairs, iPad 5th Generation LCD Repairs, iPad A1822, Apple iPad 9.7-inch Display Price