iPhone 11 Pro Broken Back Glass Replacement Repair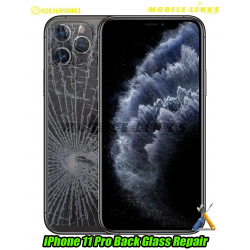 NO FIX NO FEE ,
CALL 0203 689 8083
Repairing Estimated Time:- 24 - 48 Hours Time (Subjected to Terms & Conditions)
Please Note that the Customer has to bring the phone in the Shop for Repairs
If you have a cracked or broken iPhone 11 Pro back glass we have a solution for you. We can change the back glass at a very reasonable price in a short time at our shop. Please visit our shop- "Mobile Links" at 396 Barking Road, East London, E13 8HJ or Call Us if you have any more queries on - 0203 689 8083
NO FIX NO FEE !

Why Fix from Us ?
> We offer best affordable price compared to the market
> 30 Days Peace of Mind Warranty in all our Repair Works
> "FREE" Tempered Glass on any iPhone Display Repairs
> Free Consultation on any Phone for Repairs
> 6 Years Professional Experience in East London
All payments will be charged only after the repair work is completed successfully and handed to the customer.

OUR ADDRESSES:-

Mobile Links

396 Barking Road
Canning Town, E13 8HJ

Phone - ‎0203 689 8083
iPhone 11 Pro Broken Back Glass Replacement Repair in East London