Nokia 106 Dual SIM Mobile Phone Unlocked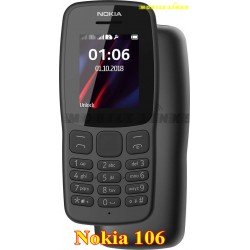 Nokia 106 Dual SIM Mobile Phone UNLOCKED
FREE DELIVERY IN UK ONLY !
Summary:
> Dual SIM Phone
> Genuine Made by Nokia
> With Charger In the Box !
> Attractive & Affordable


Features of the Nokia 106:

> Classic, ergonomic design to better fit your hand

>Up to 15 hours talk time and a month on standby
> 1.8" QVGA display size for better viewing
> Island keymat for easier texting and dialing
Design of the Nokia 106:
> Shaped for your palm

> Featuring a curved, ergonomic body and an island key layout for easier dialing and texting, the Nokia 105 gives you the feeling of a solid, quality phone nestled in the palm of your hand.
Battery:

> It's good to talk

> The resilient battery offers up to 15 hours of talk time or a month on standby.
Software Details:
> Nokia Series 30+ software platform

> Pre-loaded Snake Xenzia game
> Resilient battery offering up to 15 hours talk time
> FM radio
> 4 MB ROM storage
*Subject to phones availability in warehouse.


Visit our shop at - 396 Barking Road, East London, E13 8HJ
Call Us - 02036898083
FREE DELIVERY IN UK ONLY