Unlocking Code for Huawei R207 E5330 E5330Bs-2 -6 Mobile Wi-Fi Instantly in Minutes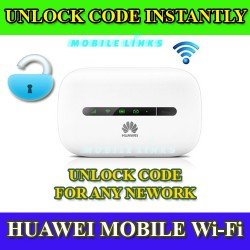 WE CAN GENERATE UNLOCK CODE FOR These Models- Huawei R207 E5330 E5330Bs-2 -6 FOR ANY NETWORK AND FOR ANY COUNTRY.
FACTORY AND PERMANENT NETWORK UNLOCK CODE GENERATED FROM HUAWEI SERVER - 100% ACCURATE & FAST

How long does it take to get the code?

As soon as we get the order, your code is generated instantly and send to you, but if its night time in UK please allow up to 6 hours to generate the code and send to you. Time is usually 5 minutes to 6 hours to complete the order. Orders placed before 6pm UK time code is generated and send to you in few minutes.

How long does it take to receive the code?

> Code will be generated instantly, and will be sent to you during office hours, please allow up to 6 hrs to process the order.

> Removing the network restriction on your mobile phone with unlock codes is the safest form of unlocking available

> Your device will be factory unlocked and free to use on any network available.

>> Return Policy:

We will refund your order completely if the unlocking code provided is incorrect or not working. To claim refund you should be able to send us a picture of the back of the IMEI number and the picture showing how many attempts remaining.
Visit Us at "Mobile Links"
396 Barking Road, E13 8HJ
Phone - 02036898083